A White Paper: State-of-the-Art Business Intelligence Platform For Ad Performance Analysis and Optimization—With Predictive Capabilities
At PDG Consulting, we work with a wide variety of clients in all types of industries—including well-known, major players in the entertainment industry. Our clients trust our technology and domain expertise, and frequently present us with their toughest, most innovative, high value software development projects.
For example, we were recently brought onboard on a new production initiative with a leading TV distributor for households. This client hired us to build an ambitious Business Intelligence (BI) platform that would provide their internal teams, both within advertising and operations, with new dynamic dashboards highlighting ad performance data and insights. Specifically, this platform would need to provide them with a powerful, state-of-the-art, custom (BI) platform that acted as the central one-stop source for all their advertisement data. This dynamic system would also need to predict the performance of future advertising campaigns for the business unit in a simple manner. This highly-customized technology solution was beyond one-of-a-kind, and a project our tech team was very eager to jump into!
In the white paper below, PDG Engineering Director, Fabien Coppens, takes us through each of the development steps we took to not only create a state-of-the-art BI tool, but also a platform that performs exactly as this TV distributor needed for their robust business needs. We further expanded on this initiative—which had our team solving quite a few complex, interesting problems in the software world—to touch on how we assembled the right SaaS and managed services to create robust data pipelines in addition to populating an ever-growing data lake.
By adding the proper query engine and BI tools on top of the data lake, we were able to provide their users with dynamic, configurable dashboards that allow them to monitor and optimize all their campaigns. Using some innovative algorithms and the Spark distributed computing framework, our team was also able to help the client predict the performance of their future campaigns—giving them an opportunity to fine-tune them accordingly.
Get the in-depth look into this innovative software project by reading our newest white paper below. Download the white paper by clicking on the image below: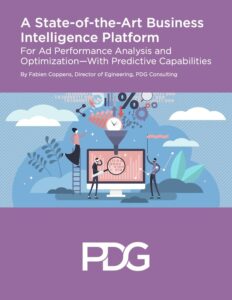 Learn more about our takeaways and best practices, in addition to our continuous approach to adding additional features to this platform. Now that we've tackled these challenges, with the new platform being live and bringing value every day to our users, we share our approach and the solutions we came up with to build this state-of-the-art BI tool.
Be sure to stay tuned for future follow-up articles and other informational software engineering topics from the PDG Consulting team!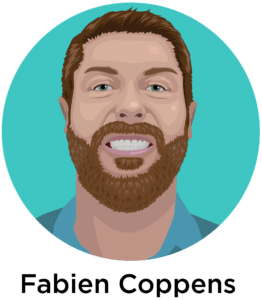 Fabien Coppens, Director of Engineering at PDG Consulting, is a solutions architect and technology leader with 25 years of experience in building distributed, scalable business platforms. He has architected and engineered critical, complex systems for a variety of industries including entertainment, e-commerce, banks, heavy industry, medical imaging, and telecoms. He has worked on large-scale enterprise ecosystems, as well as several early stage startups where he built products from the ground up. He is a hands-on tech leader who has been consistently leading and mentoring teams of engineers. Fabien holds a PhD in Fluid Dynamics from the University of Toulouse, France, as well as an MS in Physics from the University of Paris, and a French "Grande Ecole" Engineer diploma in aerospace engineering from ISAE-SUPAERO.