NAB OTT Streaming Summit 2022 Recap
With countless streaming services available in today's market, it's no surprise that companies both big and small are vying for a piece of the streaming pie. This was certainly apparent after seeing the participant and vendor turnout at the NAB Show 2022 in Las Vegas, particularly the two-day Streaming Summit.
PDG Consulting had the pleasure of being a platinum sponsor of this year's NAB Streaming Summit where we got to learn from industry leaders, network with various media companies, meet with potential new partners, and even participate in a panel discussion.
NAB Streaming Summit Kick-Off
Dan Rayburn, the Streaming Summit conference chairman and host extraordinaire, kicked off the summit on April 23rd in the West Hall of the Las Vegas Convention Center with an overview of the show and run down of industry trends and news. The biggest news of the week was of course Netflix losing around 200,000 subscribers and the associated dip in stock price, along with their announcement of introducing ads on the service. Dan was able to take what many would consider bad news and show us the opportunity behind the media negativity. In the same time period, Netflix had actually increased their margins. They had also identified around 100 million households sharing passwords. Additionally, virtually all major streaming services are pursuing ad supported models, and that could potentially mean lower price point tiers for those services. So while this negatively toned news came out about Netflix, what it actually meant was huge opportunities for revenue growth. This positive outlook carried on as a theme at the Streaming Summit. Vendors, participants, and speakers came from companies big and small, and all with the goal to grow their streaming footprint. Topics across many areas of streaming services were discussed and the combined learning accentuated the growth potential for all who attended.
Quick Takeaways from the Streaming Summit:
The Streaming Summit represented a very small portion of the larger NAB Show, but there was a huge amount of representation from streaming vendors and companies in the larger show as well
The West Hall of the Las Vegas Convention Center was enormous and filled with hundreds of vendors ranging from huge names like AWS to niche providers of streaming services; and this was just one of three halls at NAB!
Participants seemed excited to be there and many were looking to understand how to get their own streaming services off the ground
Participants were very excited to be at a convention in person since the last two years of the NAB Show had to be virtually attended
PDG loved being a sponsor of the Streaming Summit and having the opportunity to speak during the roundtable discussion "Key Tech Requirements for Building and Managing an OTT Service"
Watch a recorded video of PDG's founding partner, Adam Tarshis, on the NAB Show Streaming Summit panel: "Key Tech Requirements for Building and Managing an OTT Service."
Streaming Summit Hot Topic: OTT Subscription Models
One of the hot ticket items at the Streaming Summit centered around how companies could offer their streaming services to users. The general trend of the industry is to now give customers tiered options. Subscription Video On Demand (SVOD) will remain as the premium offering for customers willing to pay the highest tier and avoid advertising. Think of this as the traditional Netflix model where all content is included at a flat price. But with all these streaming services available, customers are looking for more cost friendly options. This is where Advertising-based Video On Demand (AVOD) comes in. Customers can be offered lower priced tiers and be shown ads to ensure their Average Revenue Per User (ARPU) stays at the level needed to support a company's revenue goals. Some streaming services can even be offered free of charge to customers using advertising revenue only. This format is known as Free Ad Supported TV (FAST). Like any industry there are always a million acronyms to keep track of and new ones are being created every day! With a lot of emphasis being placed on advertising revenue, there was a bit of a lack of focus on how Dynamic Ad Insertion (DAI) truly works and should be implemented. PDG was happy to be able to provide some pointers in our panel discussion, but DAI is an animal of its own and companies should have a strong understanding of their advertising product and technical roadmaps before getting too far in their OTT service builds.
Creating Your Own Streaming Service: Build or Buy?
Another big topic was how companies can create their own streaming services. Do they build one from the ground up? Do they partner with one of the many vendors who offer Online Video Platforms (OVP) that support most or all of their streaming infrastructure? The short answer is that it depends on the size of your company and the number of users you expect to have. With so many OVPs claiming to offer out-of-the-box streaming solutions, it is incredible how much easier it is nowadays to get a streaming product off the ground. But if you have a large company, expect to have a lot of users, or need the flexibility to control how your platform works, then likely the best route is to build the key components yourself, but pick and choose some parts of your platform to be vendor supported to ensure your time-to-market is still positive.
Overall, we at PDG Consulting were very happy to be able to attend the Streaming Summit. We got to attend sessions and learn from industry leaders like Google Cloud, Comcast, Netflix, and many more. We also got to network and meet with companies doing exciting new things to push the industry forward. We are grateful to have been a part of this year's event and hope to attend again in the future!
As a leading technology consulting firm, PDG Consulting has successfully delivered streaming media development and business process optimization projects that help drive business growth for clients such as DIRECTV, CBS, Sony Pictures, and 21st Century Fox. Have questions about an OTT streaming, business intelligence or process optimization project? Contact us and let us know how we can help.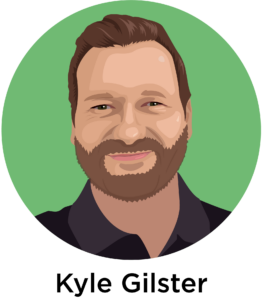 Kyle Gilster, Director of Client Delivery at PDG Consulting, is a hands-on software project delivery lead with 10+ years of experience implementing enterprise software solutions and managing software development teams. He has led software projects across a variety of industries utilizing a wide range of technologies, and specializes in OTT Streaming, Linear TV, and Targeted Advertising. He wears many hats at PDG including systems architect, project manager, product manager, scrum master, and business analyst.